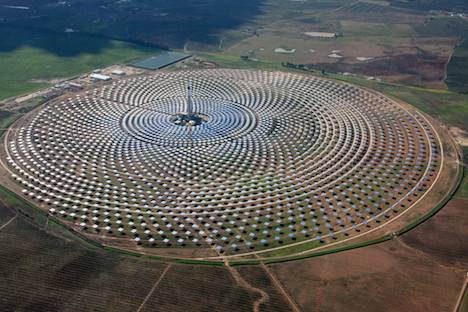 Spain's huge solar thermal plant
On Thursday, we went to this really cool solar thermal power facility. There are a few others in the world, like the really huge and famous one in Spain. This one that we went to is the largest in China and part of a demonstration project run by the.
The whole facility creates about 8.83 MW, but does not feed to the grid. I have no idea how they consume that much energy on-site. It is enough capacity to power 3,000 homes. The field of about 100 large mirrors, which adjust direction as the sun moves across the sky, is about 10,000 sq meters or 100 meters by 100 meters. It is expensive and we had lots of questions about scaling it up. There are plans for a big installation in the desert of Gansu Province. It cost 35,000RMB/kW for this facility (construction, maintenance, and human resources, but not the geographic footprint/land).
The permanent tower is 120 meters tall, but incomplete. They will dismantle the other tower (62m) when it is ready. It felt like we were in Middle Earth. The way the tower is constructed, it twists in this otherworldly way towards the heavens. Here are some pictures that I snapped before we were asked to stop taking photos. Unfortunately, you cannot see the beams
This is the crew: a South African, a French woman, an Australian, a Chinese, an Irishman, a Dutchman, another Irishman and then another Frenchman, a British of Indian origin, Founder and organizer Yan Mi (pronounced Yummy), a Spaniard, me, and a Portuguese woman, who decided to stand fsr away from me.
Nice sunglasses, dude! Are you about to get burned up? Because there is a brick behind you that is...
Steel plate and brick (turned into ceramic) that were burned by the solar oven.
Gandalf the Grey and Merlin were having a meeting in the upper chamber so we could not climb the tower.
After the tour, we took the bus to a hutong and quite famous Beijing restaurant. This fish is not, surprisingly, made of tofu, but rather from milk.
After lunch we went to the
Beijing
International Technology Transfer Center. That was okay. It is a fascinatingly opaque way for the government to funnel money to projects that it likes. This is the release from their opening:
On January 26, 2011, the launch ceremony for the International Technology Transfer Network (ITTN) was held in Beijing International Hotel Convention Center.
Jointly initiated and established by more than 40 highly recognized technology transfer and innovation service institutions from 15 countries, including the Beijing Technology Exchange & Promotion Center (BTEC) and the International Technology Transfer Center (ITTC) of the Chinese Academy of Sciences (CAS), the ITTN is committed to providing an open innovation service platform in support of international technology transfer, and aims to pool global innovation resources and drive regional innovation and development.
Afterwards, we wandered past the
National Center for the Performing Arts
.
This is the rear end (so to speak) of the Great Hall of the People.
Finally, here are a couple of blurry photographs of "the opiate of the masses," which is my term for the flag-raising and lowering ceremony at Tianan'men where thousands of people gather each morning and evening to watch the PLA and plain-clothes police officers participate in a martial exercise. They don't fold the flag in a triangle like American troopers, but sort of grab at it and pull it into a big knot.