Today's English version of
China Daily
features some pictures of guiding ladies. We also frequently "get to see" airline stewardesses and models at fashion shows and car shows, etc. as the pictures of the day. Nobody is disputing the beauty of Chinese women, but I think it cheapens the publication to indulge its reader's thus. Worse, it objectifies women.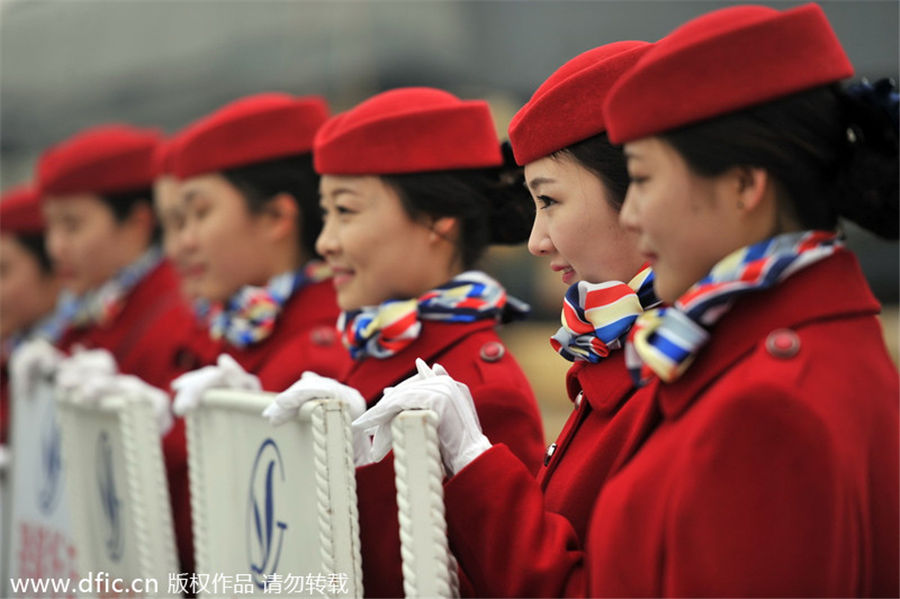 Guiding ladies wear identical red work uniforms on the opening day of the 2nd Session of the 12th National Committee of the Chinese People's Political Consultative Conference (CPPCC), the country's top political advisory body, at the Great Hall of the People in Beijing on March 3, 2014. About 2,200 members of the CPPCC National Committee will discuss major issues concerning the country's development during the annual session scheduled to conclude on March 12.[Photo/icpress.cn]
"...will discuss major issues..." seems oddly juxtaposed with the chosen image.
I am reading the Pope's first solo apostolic exhortation,
Evangelii Gaudium
, where this celibate primate writes with compassion:
I have always been distressed at the lot of those who are victims of various kinds of human trafficking. How I wish that all of us would hear God's cry: "Where is your brother?" (Gen 4:9). Where is your brother or sister who is enslaved? Where is the brother and sister whom you are killing each day in clandestine warehouses, in rings of prostitution, in children used for begging, in exploiting undocumented labour? Let us not look the other way. There is greater complicity than we think. The issue involves everyone! This infamous network of crime is now well established in our cities, and many people have blood on their hands as a result of their comfortable and silent complicity.
Appearances are everything!
*
The Stitcher app, I believe, picks podcast stories that it thinks I might like to hear. How they arrived at this "suggestion" from my listening to 5 minutes of Garrison Kehler's Writer's Almanac, 59 minutes of Amy Goodman's Democracy Now!, and 4 minute hourly updates from NPR: Hourly News Summary is an open question
.