A visit in large part focused on energy deals ends with bamboo-scented vapors in a Chongqing zoo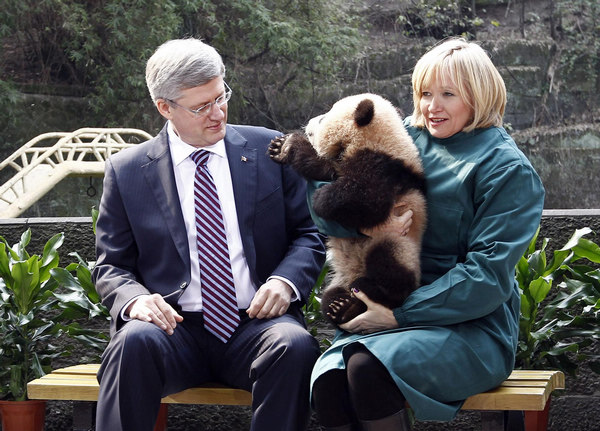 Canada's Prime Minister Stephen Harper looks at a panda being held by his wife Laureen at a zoo in Chongqing Feb 11, 2012.
Moments before the panda bitch-slapped the visiting prime minister, knocking his spectacles to the bench, the adorable cub dropped some natural gas on Laureen's lap. It was a classic moment of pong-ping diplomacy.
Newly appointed
special ambassador to China's funny-bone
, Dashan, might have observed, "If you read-with-care the caption above, taken verbatim from
China Daily
, you will notice the misplaced modifier. Is Laureen really married to a panda?"
Harper's look of disgust in response to the out-stretched palm of this wild animal was rivaled only by Laureen's expression--a rare combination of is-there-anything-you-won't-make-me-do-for-the-cameras and we-never-had-a-child-that-was-this-heavy-and-wiggly.
According to observers, Laureen's husband is said to have declared, "We are also committed to mutually beneficial economic relations. And that's what we are going to pursue." It is unclear that Laureen is on board with the plan. Her aides have already started making arrangements for
Peng Liyuan to hold a wolverine during her 2013 visit to Alberta
.
Harper came to sell uranium to China.
We can all be giddy that a newly negotiated protocol "will allow the shipment of Canadian uranium directly into China. Some 50 million pounds of uranium is expected to ship from Cameco's operations to China over the next 15 years."
Despite challenges such as lower uranium prices and the Fukushima nuclear meltdown that rocked Japan last year, this company saw revenue rocket from $673 million in the fourth quarter of 2010 to $977 million in the final quarter of 2011 - a jump of 45 percent. Gross profits in the fourth quarter also climbed to $353 million, up from $252 million compared to the same time last year.
It is widely recognized in Nanking, Formosa, and throughout Northeastern China that what happened at Fukushima in 2011 was just
karma
for all the terrible things Japanese people did seventy years ago and for which they have yet to apologize. Nothing like that is projected to happen in the Middle Kingdom. State planners and the engineers of China's fourth generation of leadership have guarded against it. Earthquakes and other natural disasters that could lead to similar nuclear "events" are being carefully managed by
Hydro-Quebec
and
China Three Gorges Corporation
, according to
the women on CTGC's leadership team
. Tibetan and other Buddhist clerics differ about the karmic toll of
Mao's extermination of the Four Pests
, but most agree it is not likely to result in a Fukushima or Hiroshima-type accident.
Harper came to sell oil to China.
We can all be ecstatic that China could start receiving Canadian oil as early as 2016 if a pipeline project from Alberta to Canada's Pacific coast goes ahead. As moral relativist Joe Nocera cynically
notes in the op-ed pages of the Old Grey Lady
, nothing anybody ever does really matters so the United States ought to suck the tar sands dry before China gets a lick. Anything less demonstrates a failure of democracy and a strategic blunder of epic proportions.